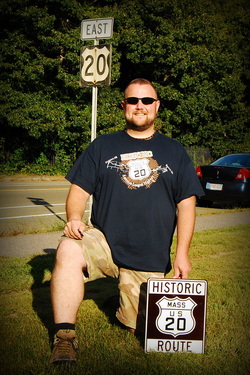 President / Founder
Bryan had a love for history early on, always eager to seek out new old facts and interesting stories in ways most people would glance right over. It is no wonder that over the years his love for this became focused on a highway. He grew up knowing Route 20 as the road that went from north of his grandparents cottage on Cayuga Lake, in New York's Finger Lakes region, to Darien Lake, where his family would make an annual pilgrimage every summer. It was one summer day in 1997 that Bryan took a borrowed camera and embarked on his first "road trip". Granted it was just around the north part of Cayuga Lake, but on that day a passion for photography and road trips was born and Route 20 was a part of this first experience.
The road trips grew over the years to include all eleven Finger Lakes the next year, and eventually Bryan ended up traveling through all of New England and parts of Atlantic Canada before moving to the Boston area in 2004. Here he learned by driving back and forth from his hometown to Boston, Route 20 serpentined
the interstates and ended in Boston. It became a dream and goal to one day travel this highway in its entirety, but it seemed like many years in the making.
In the late spring of 2010, fate would play an interesting role in directing Bryan to Route 20. What started out as a long range plan, quickly turned into a spontaneous trip across the United States and all of it on US 20. The trip was completed in 14 days and over 1800 pictures were taken. All of this was documented in a blog that can be followed here.
The mission after the trip was to publish his photos into a coffee table book, however after a lot of planning and organizing, this mission grew exponentially into the project you see before you and the Historic US Route 20 Association was formed. Not only was Route 20 a hobby or a photo project. It became a significant part of Bryan's life.
Bryan is a meteorologist by trade, and graduated from the University of North Carolina - Asheville. He has worked on TV, and in the private sector including the infamous Mt. Washington Observatory.
When not traveling on Route 20; Bryan enjoys the weather, hurricanes, good wine and wineries, home improvement projects, visiting the National Parks in the US and escaping to Vermont for a little RnR.
---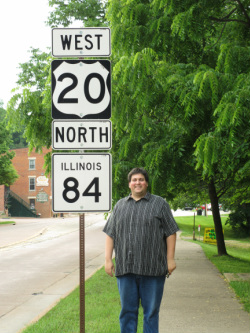 Vice President / General Manager

As a Child, Brad was raised in both Orlando, Florida, and DeKalb, Illinois, a town that split the distance between Chicago and Rockford, Illinois. He acquired a love for traveling with the Boy Scouts as well as his family, and his adventures would land him in across much of the Contiguous United States, Mexico, and Hawaii. On these adventures, he enjoyed tubing, kayaking, skiing, ice boating, swimming, hiking, camping, and always experiencing something to look back and laugh upon.
Brad is a meteorologist working for the State of Florida while finishing his Master of Science degree at The Florida State University. Although his career is just beginning, Brad does have some experience in running organizations. Brad was the president of the North Florida Chapter of the American Meteorological Society and the chapter continued its success within the parent organization earning a spot on the Chapter Honor Roll.

Brad is excited to be working with The History U.S. Route 20 Association. He has always had an interest in new places and less-traveled roads. In what little free time he has, Brad enjoys swimming and hanging out with friends. He also enjoys playing the Clarinet, and passionately rooting for The Florida State Seminoles' football and basketball programs.


---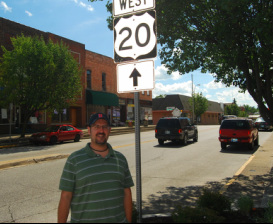 Treasurer

An avid traveler, both at home and abroad, Jim brings his knowlege of travel and adventure to the organizaton. Jim is no stranger to long road trips having driven across the US numerous times and has visited 46 of the 50 states in the process. He has visted 10 countries as well.
Jim is a native Pennsylvanian, from a town north of Philadelphia. He moved to Boston to attend college at Boston University and has lived here ever since. While in college, Jim was the treasurer of his fraternity and very active as the social director.
Jim is a physical therapist at various locations in the Boston area. He has worked as an acute orthopedic specialist at New England Baptist Hospital and wrote a chapter for educational purposes as well as being published for research in orthopedics and cardiac research. In his free time, which currently is very limited, he enjoys spending time in his gardens, canning and making savory foods, his dogs and visiting family in New Hampshire and Pennsylvania.. Hawaii, Alaska and St Maarten are his favorite get away destinations.

---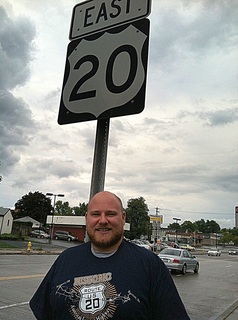 Secretary

Growing up in rural North Central Ohio, Seth frequently traveled US Route 20 throughout his childhood. It was one of the places where he learned how to drive, it took him to see friends and family, in fact, traveling on US Route 20 often meant that the Cavello family was going on a road trip. It was from these early memories that he gained an appreciation for traveling and went on to visit 48 states and 15 countries.

The desire to travel translated into a lifelong love affair with geography. Having received a B.A. and M.A in geography at the University of Cincinnati, Seth is now pursuing his Ph.D. in geography at SUNY at Buffalo where current research interests focus primarily on neighborhood dynamics and immigrant settlement patterns. Interestingly enough, living in Buffalo reunites Seth with the opportunity to travel US Route 20.

When not studying for school, Seth can be found with his nose in a good book, sipping a cup of good coffee, checking tennis scores, or visiting presidential sites. Inspired by St. Augustine's famous quote, "The World is a book, and those who do not travel read only a page," Seth is truly at his happiest when he is seeing the world.


---
---